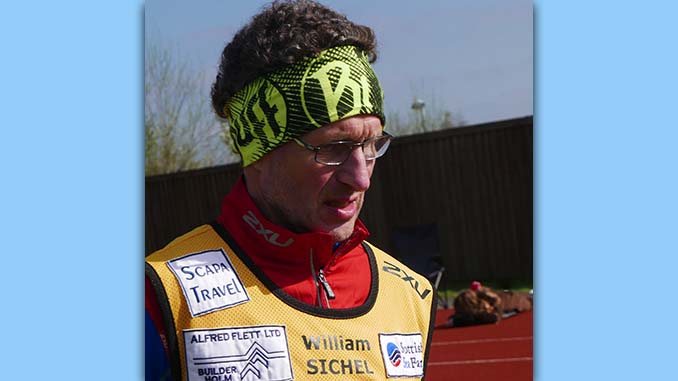 Sichel revises race plans following bereavement
Orkney-based multiday runner, William Sichel (63) has announced a revised racing programme for 2017 following a traumatic summer in which his wife, Elizabeth, passed away after a short illness. William had been ready to leave for New York to return to the Self-Transcendence 3100 Mile Race in Queens when Elizabeth's condition became clear.
"It's been an awful few months to be honest but I now want to start racing again and restore a bit of normality to my new life as a single man.  I'm very much a routine person and I slotted back into a training and work routine very quickly after Elizabth's passing in early July and that seems to have helped a lot in many ways."
William will now tackle an intensive period of racing with events in Hungary, Norway and Spain – all before Christmas.
"I'm opening my autumn campaign with a 48 Hour road race in Balaton, Hungary from September 29th to October 1st. Then I'll head to Oslo for an indoor 24 hour in late November, followed three weeks later by an outdoor track 24 hour in Barcelona."
William is currently persuing his record-setting project called "Journey to 750" in which he is attempting to set 750 running records at World, British and Scottish level, including age-group records. Currently he has set 423 records. His shortest record is an age-group one for 30 miles on the track and his longest is an overall British record for 3100 miles/5000km on the road.
William continues to raise funds for the cancer support charity CLAN and his dedicated web page can be found here: http://www.justgiving.com/William-Sichel
William is very grateful to his main sponsors: Alfred Flett Ltd, Scottish Sea Farms, JBT Distribution

Links to William

www.williamsichel.co.uk
www.williamsichel.co.uk/blog
Facebook: http://www.facebook.com/WilliamSichelAthlete