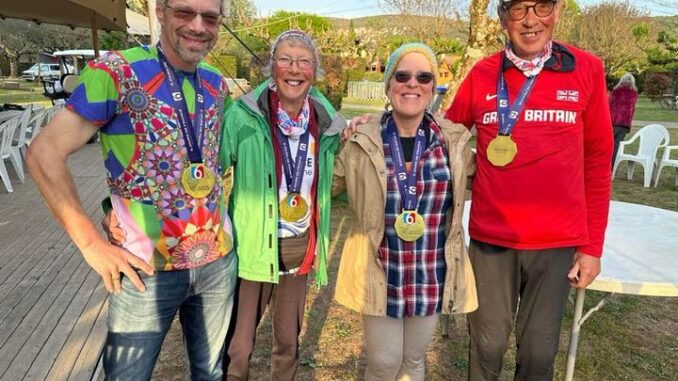 6 Jours de France 2023, the French 6 Day Race was this year dedicated to founder Gerard Cain on its 20th anniversary.
The women's 6 day was won by Françoise Benet (FRA) with 644.82 km in her first event over 24 hours. Françoise battled with women's early leader Amy Mower (USA) to take the victory on the last day. Amy finished with 632,550 km. Edith Doyen (FRA) who won the 2022 TransEspaña, took third spot also in her first 6 day race averaging 101 km a day to finish with 611,131 km.
Bob Hearn (USA) 758,366 km, led from the early stages to take the win after a run of 6 day events experiencing various issues that prevented him from performing at the standards he wished. Bob posted some notes on his facebook page which is linked  to below.
Richard McChesney (NZL) was first walker, second overall and fourth all-time best 6-day walking total with 711,299 km. Womens 6 day winner in the walking category was Claudie Bizard (FRA) with 605,171 km.
Tiziano Marchesi (ITA) broke 400km finishing with 407,218 km in the men's 48 hour.
Full results at the link below.
| | | | |
| --- | --- | --- | --- |
| Pos | Name | Ctry | Km |
| Women | 6 Day | | |
| 1 | Françoise Benet | FRA | 644,820 |
| 2 | Amy Mower | USA | 632,550 |
| 3 | Edith Doyen | FRA | 611,131 |
| | | | |
| Men | 6 Day | | |
| 1 | Bob Hearn | USA | 758,366 |
| 2 | Franck Joubert | FRA | 655,211 |
| 3 | Christian Perchoc | FRA | 632,550 |
| | | | |
| Women | 6 Day Walkers | | |
| 1 | Claudie Bizard | FRA | 605,171 |
| 2 | Sabrina Freyburger | FRA | 533,901 |
| 3 | Sylvie Biraud | FRA | 343,846 |
| | | | |
| Men | 6 Day Walkers | | |
| 1 | Richard McChesney | NZL | 711,299 |
| 2 | Dominique Delange | FRA | 650,192 |
| 3 | Fabrizio Pavone | ITA | 646,544 |
| | | | |
| Women | 48 Hours | | |
| 1 | Maria Ilaria Fossati | ITA | 233,545 |
| 2 | Sylvie Vivard | FRA | 202,457 |
| 3 | Michelle White | GBR | 113,064 |
| | | | |
| Men | 48 Hours | | |
| 1 | Tiziano Marchesi | ITA | 407,218 |
| 2 | Javier Bernabeu Molina | ESP | 289,235 |
| 3 | Alain Malfondet | FRA | 255,406 |
| | | | |
| Women | 24 Hours | | |
| 1 | Anne-Catherine Mercier Pechinot | FRA | 171,587 |
| 2 | Angélique Delafaite | FRA | 145,958 |
| 3 | Julie Regnier | FRA | 124,520 |
| | | | |
| Men | 24 Hours | | |
| 1 | Ray Qi | FRA | 202,942 |
| 2 | Pierre Aubery | FRA | 181,444 |
| 3 | Jean-Claude Grimaud | FRA | 168,872 |
| | | | |
Links
Full results on the race website: 6 Jours de France
Bob Hearns Facebook page