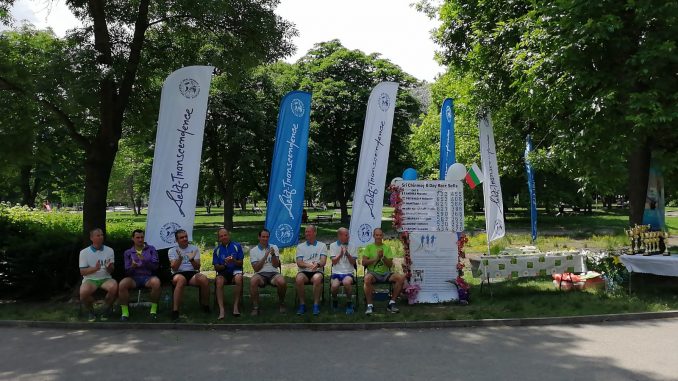 The Sri Chinmoy 6 Day Race 2021 Sofia drew to a close today with Andrea Marcato (ITA) winning the multiday event with 732km (455 miles) having led since mid afternoon on the second day. Andrea broke the Italian record for his age group (M35) by 12km and his result is the second best 6 day performance in the world this year. Priyavadin and Sandro also improved their PB's.
The course was a certified loop that meaured 0.785 km (0.4879 miles)
Onlookers said the race was really well organized considering it was done in less than two weeks. Tremendous work by the Bulgarian Sri Chinmoy Marathon Team with great support by several international team members.
For Namitabha Arsic taking joint third place must be a very happy outcome as it's been 10 years since he last took part in a multiday and 20 years since his last 6 day race.
Ananda Lahari Zuscin completed his 27th multiday to share the same mileage as Namitabha. Pranjal Milovnik improved on his last 6 day race which was in New York in 2019 and Smarana Puntigam averaging 60 miles a day maintained the minimum standard to complete the 3100, a gold standard in the multiday world.
Andrey Stefanov's 530 km takes him to 12th best Bulgarian 6 day performance.
Congratulations to all runners, organisers and authorities for putting this together so quickly. Perhaps this is the beginning of a new era in the SCMT's European multiday race hosting after the success last year of the Self-Transcendence 3100 mile race in Salzburg, Austria.
Pos
Name
Km
Miles
6 Day Race Sofia 2021 Results
1
Andrea Marcato
ITA
732
455
2
Priyavardin Reisecker
AUT
653
406
3
Namitabha Arsic
SRB
621
386
4
Ananda-Lahari Zuscin
SVK
621
386
5
Pranjal Milovnik
SVK
590
366
6
Smarana Puntigam
AUT
583
362
7
Andrey Stefanov
BGR
530
329
8
Sandro Zincarini
ITA
434
270
Race website: bg.srichinmoyraces.org
Sri Chinmoy 6 Day Race Photo Gallery