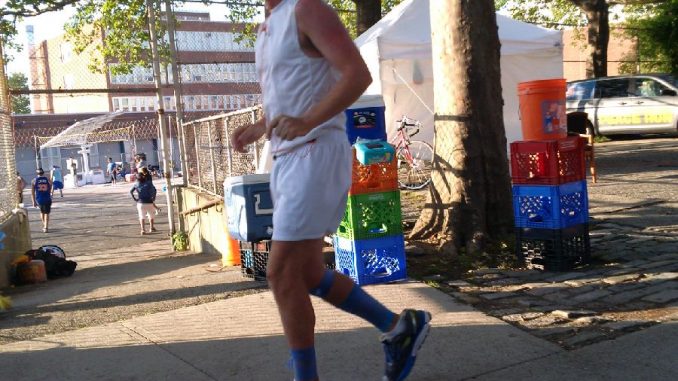 Self-Transcendence 3100 Mile Race 2017 – Daily Updates – Day 21
Daily Diary
Saturday 7th July
Another glorious running day.
Forecast rain at various time but it never appeared.
Managing to rise, shower, shave and dress quicker as the broken shoulder heals, the various exercises take some of the stiffness away. I spend about 10 mins in front of a mirror making sure I do them correctly. Steadilly getting back to more setting up duties.
It turns out the day just belongs to Nirbhasa. Magee, who despite a fall around 10 pm gets 118 laps.
In the ladies race, Yolander Holder takes 4 laps out of Harita Davie with 109 to 105, to be 2nd female. Unfortunately Sergey has another poor day with 80 laps.
Crew Chief
Race Links
Race website: Self-Transcendence 3100 Mile Race
Race Charts: Race charts and statistics
Utpal Marshall's Perfection-Journey Day 21: What You Do Inwardly
Yolanda Holder Facebook
Race photos 2017
Sri Chinmoy Ultra race photos
Sri Chinmoy's website: Sri Chinmoy.org