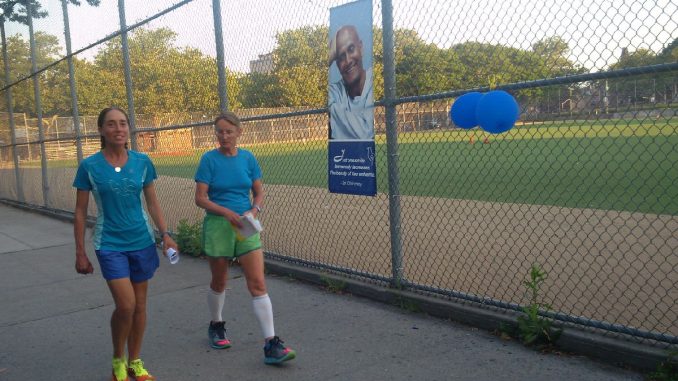 Self-Transcendence 3100 Mile Race 2017 – Daily Updates – Day 40
Daily Diary
Thursday 27th July – Day 40
Unbelievable weather for the runners, cool and slight cloud cover give them an opportunity to consolidate or even post an additional lap.
For a very rare occasion Ananda-Lahari strings two great days together as he follows yesterday's 160 laps with a 131 lap (71.89 miles). We think he may have a new target of 2700 miles.
Among the leaders, a mixed bag – Vasu returns best laps with 122, Kaneenika with 115 and Nirbhasa 109, means Kaneenika closes the gap to 14 miles.
The arrival of Andrey's wife seems to have spurned him on, as he did 109 laps, his best since day 17, and increases the gap on Sergey to 15 miles.
Nidhruvi seems to enjoy the cooler weather and posts 98 laps. As has been for some it's the performances of newcomers,
Harita and Yolanda. Both run the cooler conditions well with 111 and 115 laps respectively. Meaning Harita is exactly on the line, and Yolanda 28 miles below and gradually getting ever closer.
Crew Chief
Self-Transcendence 3100 Mile Race Results Day 40
| | | |
| --- | --- | --- |
| | Men | Day 40 |
| 1 | Vasu Duzhiy | 2638 |
| 2 | Nirbhasa Magee | 2543 |
| 3 | Smarana Puntigam | 2203 |
| 4 | Andrey Andreev | 2154 |
| 5 | Sergey Kuzmin | 2139 |
| 6 | Ananda-Lahari Zuscin | 1987 |
| | Women | |
| 1 | Kaneenika Janakova | 2532 |
| 2 | Harita Davies | 2385 |
| 3 | Yolanda Holder | 2356 |
| 4 | Nidhruvi Zimmerman | 2075 |
| | | |
Race Links
Race website: Self-Transcendence 3100 Mile Race
Live webcam on Youtube
Race Charts: Race charts and statistics
Utpal Marshall's Perfection-Journey Day 39: I Will Do Everything
Yolanda Holder Facebook
Race photos 2017
Sri Chinmoy Ultra race photos
Sri Chinmoy's website: Sri Chinmoy.org