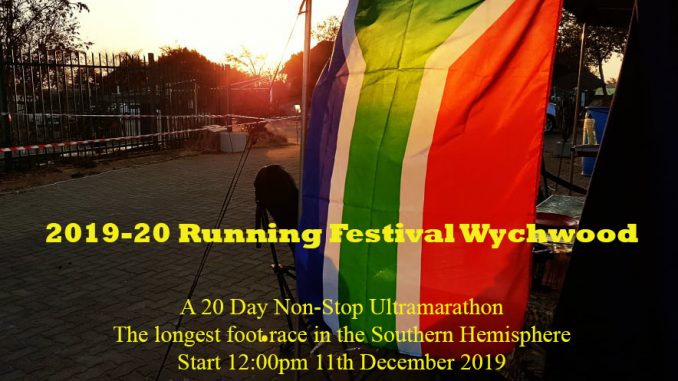 The Running Festival Wychwood 20 Day Race is just past the 72 hour mark in Wychwood, Germiston in Johannesburg South Africa. The event is taking place on a newly paved 500m brick and concrete path.
Celebrating the end of a decade and the start of a new one, the event features a huge range of options in the 20 days including 1000 mile and 1000 km events, 10 and 6 day, 72,48 hours and a 24 each day.
The first 20 day race in South Africa is being led by Kobi Oren (ISR) and leading the women is Sarah Barnett (AUS). 16 runners taking part.
| | | | |
| --- | --- | --- | --- |
| Pos | Name | Ctry | Km |
| Men | | | |
| 1 | Kobi Oren | ISR | 402.5 |
| 2 | Fred Davis | USA | 274.5 |
| 3 | Bill Heldenbrand | USA | 242.5 |
| | | | |
| Women | | | |
| 1 | Sarah Barnett | AUS | 248.5 |
| 2 | Pumla Mjoli | RSA | 233 |
| 3 | Marti Boesenberg | RSA | 223.5 |
| | | | |
Live results: www.arrowliveresults.com
Facebook group: Running Festival Circuits
Race website: www.wrightracetiming.co.za