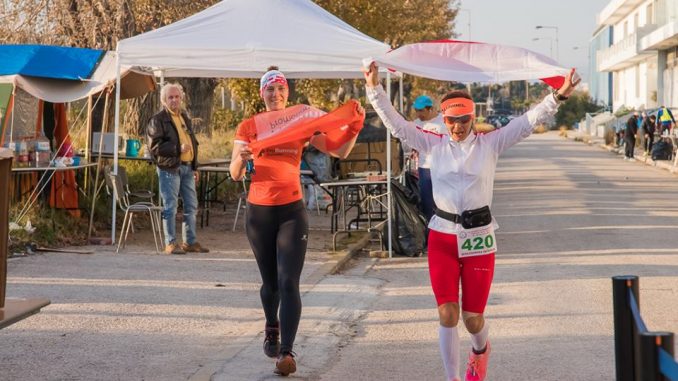 The Athens International Ultramarathon Festival has just concluded in Greece. The 16 day event featured the only annual 1000 mile and 1000 km races currently taking place in the world with Americans Fred Davis and Don Winkley the only takers this year in the 1000 mile – Fred edging Don at the end.
Europeans took on the 1000 km with Adrian Bontiu (ROM) taking the win over Anagnostis Kokonias (GRE).
The big news though was Patrycja Bereznowska's (POL) amazing new world record of 401 km in the 48 hour race surpassing Sumie Inagaki's (JPN) record of 397.103 km (246.75 miles). Bereznowska's crew posted their report on Kingrunner.com saying that she didn't sleep for the 48 hours. Bereznowska set the world women's 24 hour record last year in Belfast with 259.991 km and won the women's Spartathlon setting a new womens course record.
Such tremendous capacity would surely have the current 6 day records under threat – Sandra Barwick's track record of 883 km and Dipali Cunningham's 825 km road record.
The Polish team took 5 of the 6 podium places in the 48 hour, a very strong presence, with Izabela Dziedzic finishing second with 269 km and Aleksandra Motylska in third. Jean-Louis Vidal (FRA) was the men's winner with 344 km. Second was Zygmunt Luczkowski with 324 km and Dariusz Barowski was third with 308 km.
In the 6 day race, Petri Perttilä produced the strongest performance and a personal best to win with 700 km. The only woman competitor, Mireille Cormier (FRA), makes this her first 6 day race title and third overall.
In the more popular 24 hour event, Sasa Gacik (SRB) won with 232 km and womens winner was Teija Honkonen (FIN) with 208 km.
| | | | |
| --- | --- | --- | --- |
| Pos | Name | Ctry | Km |
| Men | 1000 Miles | | |
| 1 | Fred Davis | USA | 1043 |
| 2 | Don Winkley | USA | 838 |
| | | | |
| Men | 1000 Km | | |
| 1 | Adrian Bontiu | ROM | 751 |
| 2 | Anagnostis Kokonias | GRE | 581 |
| | | | |
| All | 6 Days | | |
| 1 | Petri Perttilä | FIN | 700 |
| 2 | Leanid Anatska | BLR | 602 |
| 3 | Mireille Cormier (F) | FRA | 415 |
| 4 | Panagiotis Kaldis | GRE | 365 |
| 5 | Orsini Denis | FRA | 358 |
| 6 | Dariuz Grabowski | POL | 269 |
| | | | |
| Women | 48 Hour | | |
| 1 | Patrycja Bereznowska | POL | 401 |
| 2 | Izabela Dziedzic | POL | 269 |
| 3 | Aleksandra Motylska | POL | 264 |
| | | | |
| Men | 48 Hours | | |
| 1 | Jean-Louis Vidal | FRA | 344 |
| 2 | Zygmunt Luczkowski | POL | 324 |
| 3 | Dariusz Barowski | POL | 308 |
| | | | |
| Women | 24 Hours | | |
| 1 | Teija Honkonen | FIN | 208 |
| 2 | Milla Vierimaa | FIN | 192 |
| 3 | Ursula Herger | SUI | 172 |
| | | | |
| Men | 24 Hours | | |
| 1 | Sasa Gacik | SRB | 232 |
| 2 | Trajche Mihov | ROM | 230 |
| 3 | Armin Bene | HUN | 222 |
| | | | |
Links
Race results
Race website:Athens International Ultramarathon Festival
Athens International Ultramarathon Festival Facebook
Patrycja Bereznowska Photo Anetami Kulska.com
Patrycja Bereznowska Facebook