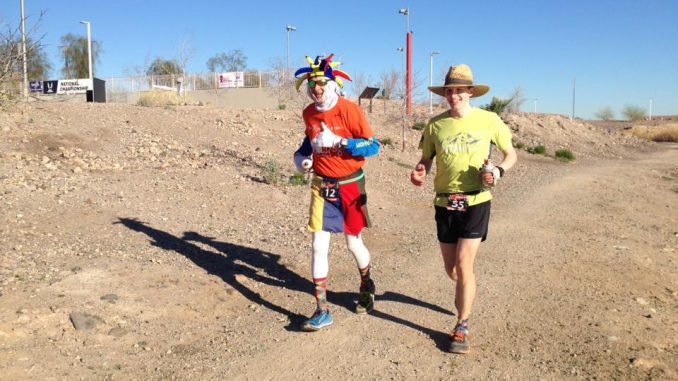 Jackpot Ultra Running Festival 2018 is done and dusted in Sin City. Featuring a full weekend palette, 48/24/12/6, 100/50 mile plus a marathon this is an interesting race in the desert.
From the website: "Produced by Beyond Limits Running, the Jackpot Ultra Running Festival on Presidents' Weekend 2018 (February 16-18) at Southern Nevada's newest and largest amenity-filled park. Located minutes from the Las Vegas strip and just 10 miles from Las Vegas Airport, the $16 million, 100 acre Cornerstone Park is nestled among desert landscape and is anchored by a 31 acre bird sanctuary lake. The lake is surrounded by a massive grass area, entertainment plaza, individual picnic pavilions with lake views, walking/running trails, volleyball and basketball courts, restrooms, BBQ's, a warming kitchen and ample parking. "
Greg Salvesen took the title at the 48 hour with 205 miles and Cheryl Symons was first lady, third overall with 195 miles.
In the 24 hour Michael Stegura, 117.5 miles won the 24 hour and Jen Francis won the womens event with 102.5 miles.
| | | |
| --- | --- | --- |
| Pos | Name | Miles |
| Men | 48 hour | |
| 1 | Greg Salvesen | 205 |
| 2 | Ed Ettinghausen | 202.5 |
| 3 | Matthew Humes | 137.5 |
| | | |
| Women | 48 hour | |
| 1 | Cheryl Symons | 195 |
| 2 | Leia Anderson | 175 |
| 3 | Karla Kent | 152.5 |
| | | |
| Men | 24 hour | |
| 1 | Michael Stegura | 117.5 |
| 2 | Oscar Hernandez | 107.5 |
| 3 | Carl Wilson | 100 |
| | | |
| Women | 24 hour | |
| 1 | Jen Francis | 102.5 |
| 2 | Rachel Wrightson | 100 |
| 3 | Angeline Whitworth Pace | 62.5 |
| | | |
| Men | 12 hour | |
| 1 | Jon Noll | 80 |
| 2 | Phillip Espinoza | 70 |
| 3 | Johnathan de Jesus | 52.5 |
| | | |
| Women | 12 hour | |
| 1 | Chavet Breslin | 70 |
| 2 | Vanessa Jones | 55 |
| 3 | Anita Fromm | 52.5 |
| | | |
| Men | 6 hour | |
| 1 | Peter Banks | 42.5 |
| 2 | Miguel Vivaldo | 35 |
| 3 | Jake Schneider | 32.5 |
| | | |
| Women | 6 hour | |
| 1 | Nicole Flangas | 30 |
| 2 | Jessica Whynott | 22.5 |
| | | |
| Men | 100 miles | Time |
| 1 | Jon Olsen | 13:39:30 |
| 2 | Jean Pommier | 15:34:07 |
| 3 | Kermit Cuff | 19:11:26 |
| | | |
| Women | 100 miles | |
| 1 | Traci Falbo | 17:03:09 |
| 2 | Caroline Wiebe | 23:55:24 |
| 3 | Pamela Geernaert | 24:20:16 |
| | | |
| Men | 50 miles | Time |
| 1 | Eric Haselby | 08:15:56 |
| 2 | Randy Compton | 12:11:52 |
| 3 | Marshall Brown | 14:36:33 |
| | | |
| Women | 50 miles | |
| 1 | Michelle West | 09:17:08 |
| 2 | Sarah Jackson | 11:41:28 |
| 3 | Kim King | 15:39:06 |
| | | |
| | | |
Live results: Jackpotultrarunningfestivall
Website: www.beyondlimitsrunning.com
Facebook: www.facebook.com/BeyondLimitsRunning
Photos: Run Aficionado Santos