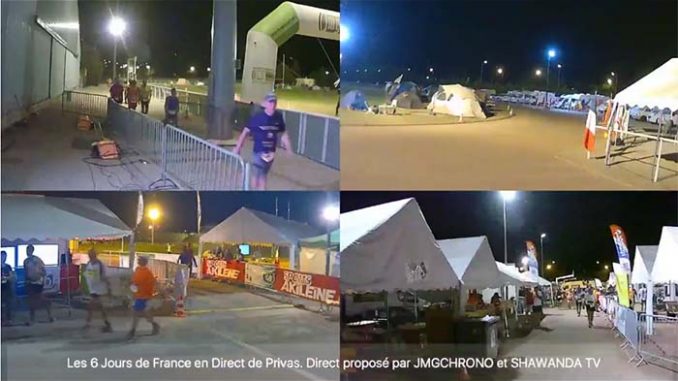 6 Jour de France 2017 – Updates 100 Hours
6 Jour de France 2017 in Privas has just passed the 100 hour point and while Christian Mauduit has at least half a day cushion on Olivier Chaigne, the two Spaniards, Fernando Soriano Rubio and Jose Luis Posado Perez are battling it out for third place.
In the womens race, the experienced Mimi Chevillon climbed into second place just ahead of Maria Pierre. However now, Maria has a 6 km lead as it looks like Mimi is resting.
Place
Bib
Gen
Name
KM
Time
Men
1
10
M
MAUDUIT – Christian
602 183
99:36:31
2
131
M
CHAIGNE – Olivier
514 463
99:15:35
3
127
M
SORIANO RUBIO – Fernando
501 203
99:36:33
4
33
M
POSADO PEREZ – Jose Luis
496 103
99:40:32
5
100
M
PERUSIC – Toni
485 903
99:38:26
6
116
M
ROSSET – Philippe
476 723
99:41:06
7
94
M
LOQUET – Patrice
465 503
99:24:14
8
58
M
CLEMENT – Philippe
459 383
99:41:12
9
53
M
BIET – Christophe
451 223
99:41:12
10
108
M
CAILLEAUX – Patrick
446 123
99:37:16
Women
1
32
F
TOMAZ DE AQUINO – Maria Jose
483 863
98:16:54
2
134
F
CHEVILLON – Mimi
440 003
99:36:58
3
16
F
PIERRE – Maria
440 003
99:37:49
4
122
F
BIZARD – Claudie
426 743
99:38:46
5
12
F
GONZALEZ GARCIA – Cristina
392 063
99:32:30
6
133
F
MULLER – Cathy
374 723
98:23:16
7
101
F
LECLERCQ – Lucille
367 583
94:59:34
8
119
F
BOURDEL – Pascale
365 543
99:37:21
9
23
F
FREYBURGER – Sabrina
359 423
99:18:18
10
129
F
VINCENT – Christelle
357 383
98:50:37
Race links
Live online results
Race website: http://www.6jours-de-france.fr/
Facebook: /www.facebook.com/6-jours-de-France</a