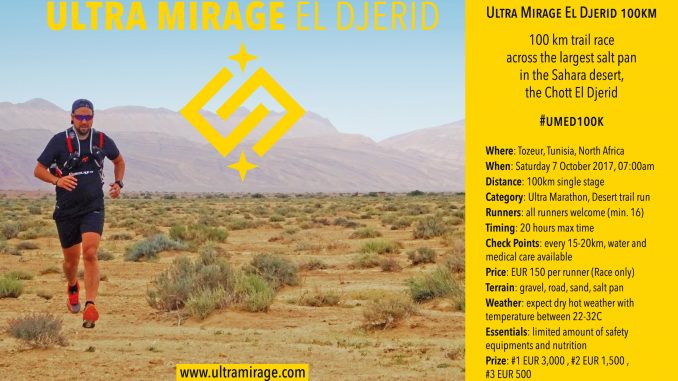 We are currently organizing « 
Ultra Mirage el Djerid
 » the first 100km//20 hours canyons & Salt Pan Ultra Trail Run in the Tunisian desert.
This international extreme sport event has already reached more than 50 registered international ultra runners, which is great for a new born event in our region.
The Race is backed by : International Association of Ultra Runners, Tunisian Athletics Federation, Association Tunisienne d'Ultra Marathon.
UMED 100K FAQ
Ultra Mirage El Djerid – UMED100
100km race across the largest salt pan of the Sahara Desert – Chott El Jerid
When: 7th October
Where: Tozeur, Tunisia, North Africa
Distance: 100km single stage
Category: trail run
Runners: all runners welcome (16 minimum age)
Timing: 20h max time to finish the race
Check Points: 20k, 15k, 15k, 20k, 15k, finish
Terrain: 10km road , 20km sand, 70km salt pan (approximate)
Weather: expect a dry hot weather with temperature between 22-32C
Essentials: runners expect to carry a limited amount of safety equipments as well as nutrition. Water will be provided at checkpoints
Multidays.com The home of multiday running news and events.