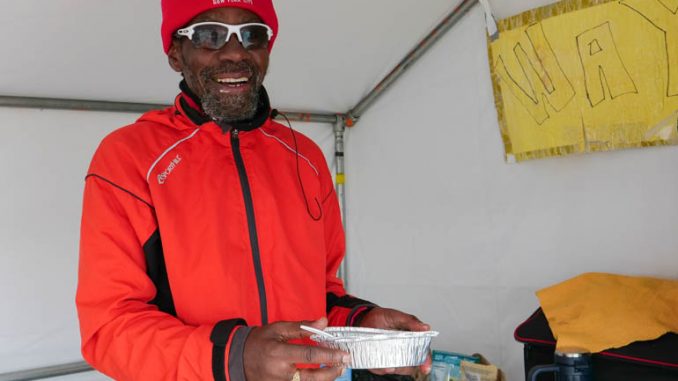 After 3 days in the Sri Chinmoy Ten Day Race New York 2017 the runners are adjusting to life on the track. Weather conditions have turned colder and windier – rain was forecast for tonight.
Jesper Olsen ran 70 miles on the third day, just as he did on day two, to take the days mileage honours for the men.
In the womens race, remarkably, the top three women all ran 52 miles and the days honours went to 4th place Vinati Docziova who covered 55 miles.
Even though the race gets competetive, there are many individual stories here about persistence and perseverance and its worth checking out Utpal's blog as he goes out to the race every day and chats with staff and runners to get a glimpse of what its like to participate in this kind of challenge from the frontrunners to the backpackers.
| | | |
| --- | --- | --- |
| Pos | Name | Miles |
| Men | | |
| 1 | Budjargal Byambaa | 251 |
| 2 | Igor Mudryk | 221 |
| 3 | Jesper Olsen | 220 |
| | | |
| Women | | |
| 1 | Kimberley Van Delst | 195 |
| 2 | Nataliya Hlushchuk | 187 |
| 3 | Gundega Gaille | 184 |
| | | |
The Sri Chinmoy Ten Day Race New York Links
Race website: us.srichinmoyraces.org – results
Utpal's daily news – Perfection-Journey.org
Photos: (Previous years) Gallery.srichinmoyraces.org
Prabhakars photos: Previous 6 & 10 day races