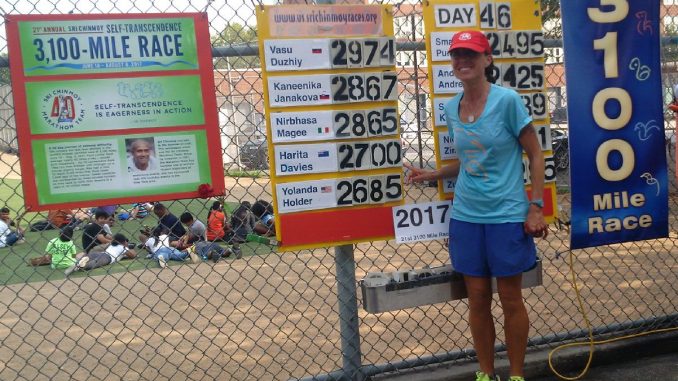 Self-Transcendence 3100 Mile Race 2017 – Daily Updates – Day 46
Daily Diary
Wednesday 2nd August – Day 46
Another glorious running day only disturbed by a thunderstorm at 5:30 pm which just lasted for an hour or so.
Although Ananda-Lahari did the most daily laps so far, an incredulous 154 laps (84.5 miles) on day 46, the real class performance came from Vasu
Except for day 1 Vasu did his best daily distance of 71.3 miles (130 laps) on day 46.
As they say here "he smells the hay in the barn"
He is now certain to finish on Day 47 probably around 9pm
Kaneenika continues to be in full control, but Nirbhasa has not let her storm away, but returned to have faith in his own ability.
Harita and Yolanda, both look good to finish late on day 52.
Crew Chief
Self-Transcendence 3100 Mile Race Results Day 46
| | | |
| --- | --- | --- |
| | Men | Day 46 |
| 1 | Vasu Duzhiy | 3032 |
| 2 | Nirbhasa Magee | 2916 |
| 3 | Smarana Puntigam | 2544 |
| 4 | Andrey Andreev | 2462 |
| 5 | Sergey Kuzmin | 2427 |
| 6 | Ananda-Lahari Zuscin | 2315 |
| | Women | |
| 1 | Kaneenika Janakova | 2920 |
| 2 | Harita Davies | 2748 |
| 3 | Yolanda Holder | 2731 |
| 4 | Nidhruvi Zimmerman | 2393 |
| | | |
Race Links
Race website: Self-Transcendence 3100 Mile Race
Live webcam on Youtube
Race Charts: Race charts and statistics
Utpal Marshall's Perfection-Journey Day 45 To better ourselves
Yolanda Holder Facebook
Race photos 2017
Sri Chinmoy Ultra race photos
Sri Chinmoy's website: Sri Chinmoy.org