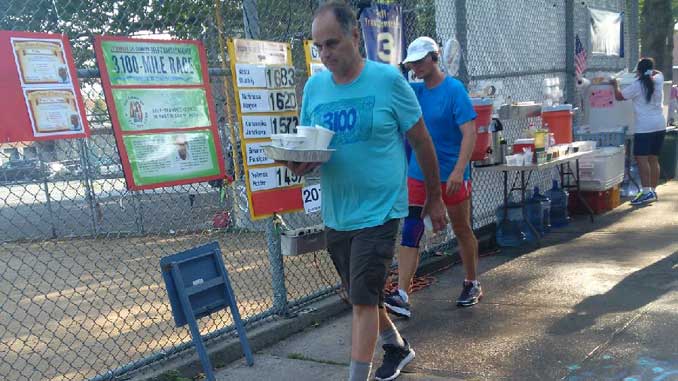 Self-Transcendence 3100 Mile Race 2017 – Daily Updates – Day 25
Daily Diary
Wednesday 12th July – Day 25
Another fine day but just a little warmer. It reaches 33c 38%. Again thunder storms are forecast, but just a few spots of rain fall as we watch the dark clouds circle around us .
It is noticeable that most athletes appear to be going slightly slower and their breaks taking just that little bit longer. This is borne out by all final daily laps being slightly down. The exception is Harita who strings her 4th 109 laps in a row to now tie with Yolanda. All today there has never been more than 2 laps between them. Both now on 1497 miles and will reach the mid point, (1550 miles), on tomorrow's lap 97.
Andrey continues to struggle and is not too happy with his food , but this will soon be resolved as he just has to let the kitchen staff know and they will provide or arrange someone to buy it – eg "salted green Russian apples " are found plus some other delights. Such is the diversity of New York it is fairly easy to find a Russian store. But of course its just the after affects of his dentistry work, or more likely tiredness. He really is a gentle giant.
Not too much lap recording for me today, especially in the evening. This gives me chance to see the proposed new web cam. Can eliminate the need for a wired connection, using a mobile phone and power pack. The resolution is very good, frames per second also and delay only 5 seconds. Now looking how to safely house the phone and power pack inside the mounting frame.
Off to bed at 11:30. So not such an early night.
Crew Chief
Race Links
Race website: Self-Transcendence 3100 Mile Race
Live webcam on Youtube
Race Charts: Race charts and statistics
Utpal Marshall's Perfection-Journey Day 24: Very Sacred
Yolanda Holder Facebook
Race photos 2017
Sri Chinmoy Ultra race photos
Sri Chinmoy's website: Sri Chinmoy.org
Multidays.com The home of multiday running news and events.