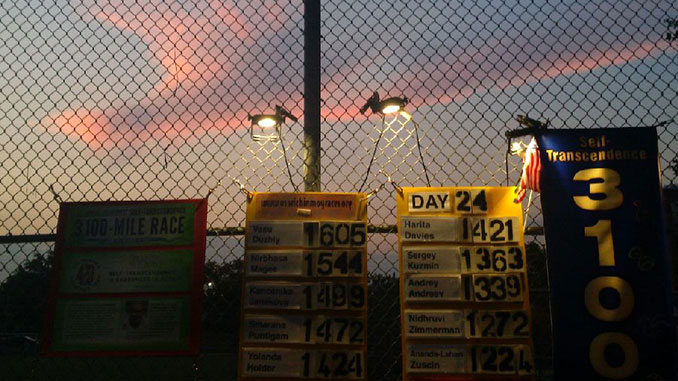 Self-Transcendence 3100 Mile Race 2017 – Daily Updates – Day 23
Daily Diary
Tuesday 11th July – Day 24
25c 34%
Blue sky with white puffy clouds and a forecast of thundery showers throughout today. Just one heavy thundery storm, which is over in a few minutes.
Lovely red skies at sunset
The day starts dramatically for Andrey, as he requires immediate dental surgery as tooth implant has come out. A search is on to find one willing to take this emergency. One is found and he leaves the race early afternoon and loses around 2 hours. At 15:30 he returns with a shrug of his large shoulders and once more joins the fray. So all considered he did well to record 84 laps.
Ananda-Lahari has another crazy day. Running very hard and through the marathon distance in 4hrs 21mins. But at lap 77 he stops for long break and returns to walk slowly the rest of the day.
The rest all run well, in what are very good conditions, and still Yolanda and Harita are neck and neck with Yolanda 3 laps ahead.
Nirbhasa reaches the mid way point of 1550 miles in the late evening and Kaneenika passes 1500 miles.
Crew Chief
Race Links
Race website: Self-Transcendence 3100 Mile Race
Live webcam on Youtube
Race Charts: Race charts and statistics
Utpal Marshall's Perfection-Journey Day 24: Very Sacred
Yolanda Holder Facebook
Race photos 2017
Sri Chinmoy Ultra race photos
Sri Chinmoy's website: Sri Chinmoy.org
Multidays.com The home of multiday running news and events.