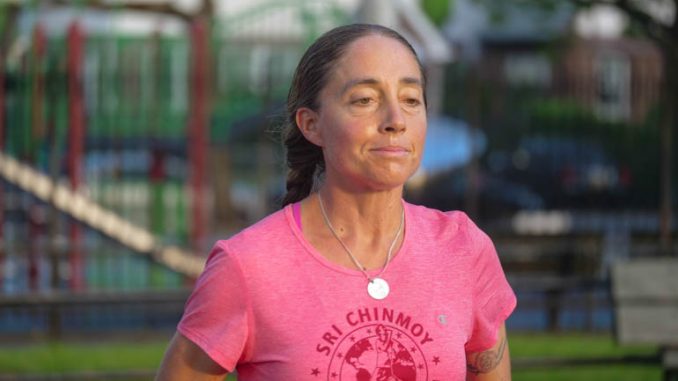 Self-Transcendence 3100 Mile Race 2017 – Daily Updates – Day 12
Daily Diary
Thurs 30th June
For me the event is starting to follow a pattern.
Up at 4 am to shower and shave. It's the dressing that takes the time with only one working arm. However sleeping with upper body against the wall I can rise with little pain. ? It's dressing with only one arm that takes the time.
From 5 am it takes around 45 mins to set everything and be ready for the off at 6 am. Perhaps the most difficult thing is to know what direction they have to go -"it's ODD to go up on a flat course".  From 6 am to around 10:30 am keep the drinks and food station stocked and update the leader board  every second hour.
Sahishnu arrives then, do any lap recording that may be required. If none required I can usually fit in an afternoon nap. Most late afternoons I am asked to lap record, and nearly always through the finish at midnight. As on "light duties" I can get straight off to the apartment and in bed by 1 am.
HARITA DAVIE
42, Christchurch, New Zealand
She has been running prodigious miles in the Sri Chinmoy Oneness- Peace Run. She has a good performance in the 10 day Race and one of the world's leading handlers.
Debut at the 3100.
Coming to today's start line with an amazing streak of 7 straight days of 110 laps per day. By midnight she will break this with 111 laps for day 12. She will have a total of 728 miles and only 16 miles behind with great Kaneenika.
Crew Chief
Race Links
Race website: Self-Transcendence 3100 Mile Race
Utpal Marshall's Perfection-Journey Day 12: Inner search
Yolanda Holder Facebook
Race photos 2017
Sri Chinmoy Ultra race photos