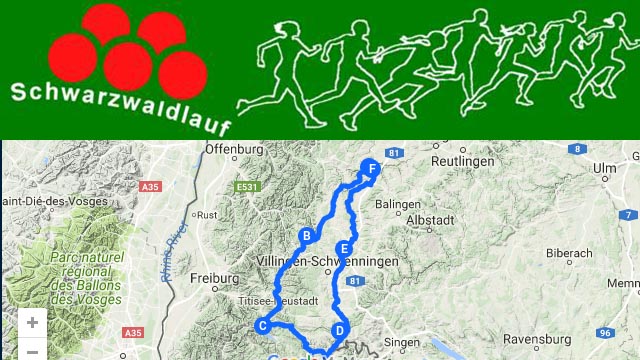 The Northern Black Forest extends between Karlsruhe in the north and Freudenstadt in the south, the entire northern half of the mountain range up to the Kinzigtal, which shares the Black Forest east of Lahr. To the west, the Schwarzwald is bounded by the "Oberrheinische Tiefebene" and east by the Gäulandschaften.
The "Schwarzwaldlauf" leads the participants in a round trip, over five days, from Horb am Neckar to Tennenbronn, Feldberg-Altglashütten, Lauchringen, Bad Dürrheim to Horb (OT) Nordstetten. It is run on many hiking trails, although it is not always possible to avoid running on asphalt for long passages.
The 2017 edition was 261 km.
The maximum running time for one kilometer is 10 minutes.
The start takes place on September 9, 2018, at 9 am, on the "tournament ground" in Dammstraße, Horb aN The goal is five days later Horber-Nordstetten.
First welcome and registration in the "Stadionhalle", Stadionstraße 27.
The maximum limit is 80 participants.
The participants from several nations are supported by a good 20 helpers.
The total of 26 catering centers are located between 8 and 12 km apart.
What do the runners expect? RUN – EAT – SLEEP! The rest is taken care of by the supervisor.
Overnight in gyms. Drinking bottle, eating utensils and cutlery, sleeping bag and sleeping pad are absolutely essential equipment. The baggage must not exceed 25 kg.
Registrations for the 3rd "Schwarzwaldlauf" continue by mail ultralauf@ischulze.de or post office.
Please also visit "Facebook" under "Black Forest" or "Ingo Schulze"
Race website: Schwarzwaldlauf 2018
---
Multidays.com
The home of multiday running news and events.