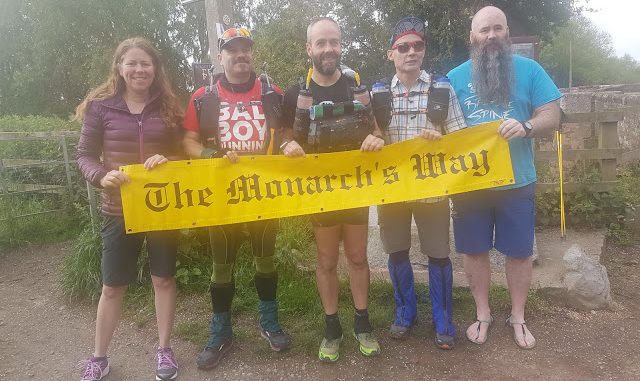 Monarchs Way 2017 Updates
Distance: 615 miles/990 km
Start: Worcester – Powick Bridge
Finish: Shoreham-by-Sea
Finish Cut Off – June 3rd 2016 10 am
Number of runners: 3
RD: Lindley Chambers
Host: Challenge Running

The Monarchs Way 2017 is a true point-to-point non stop multiday race covering 615 miles – an event that approximates the escape route taken by King Charles II in 1651 after being defeated in the Battle of Worcester.
The inaugural event last year saw three runners make it to day 4 and no further. This year another three intrepid adventurers have undertaken the journey. Alan Cormack, Lee-Stuart Evans and Chris Yeo started the 14 leg event on Saturday, 20 May 2017 and are all still doing well. Chris and Alan are running together and have about a legs advantage accoding to the reports on the blog. Average leg length is 43 miles or thereabouts.
Lindley is posting daily news on the blog.
Links
Blog: Challenge Running Race Reports.blogspot.co.uk/
Website: Monarchs Way Ultra
Facebook: Challenge Running
Twitter: @monarchsway and @ChallengeRunnin