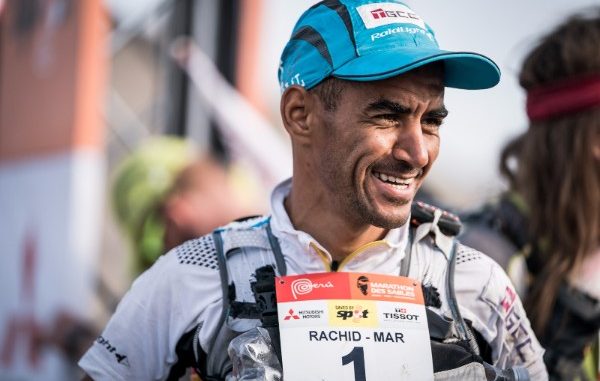 A first edition always has a special flavour – that of adventure, of the unknown: the 282 competitors who were present on the start line Tuesday morning of the Marathon des Sables Peru 2017, had come here to get off the beaten track. And they have not been disappointed! Incredible landscapes, a varied and challenging course, heat, sand, and food self-sufficiency… All these aspects of the MDS challenge were present, together with a few "bonuses", such as the strong wind blowing today on Bivouac #2. These unforeseen conditions can have a huge impact on those competitors who are already in a difficult situation. This can certainly explain the high number of dropouts (more than 15%) after just two stages.
THE TOP ATHLETES' RACE
For the race head, the second stage was marked by a super-fast start of Remigio HUAMAN QUISPE (D003-PER) and Gediminas GRINIUS (D236-LTU). In the mountain section, the Lithuanian virtually took off – an incredible contrast with his gastric problems of yesterday. The sandy section was unquestionably favourable to Rachid EL MORABITY (D001-MAR), who accelerated and gradually caught up with each one of his opponents. Then it was Remigio's turn to pass Gediminas, who finished the stage at a superb third place, which brought a huge smile on his face: "It's much better than yesterday!" As for Remigio, he seemed more tired when crossing the finish line: "It's really tough to stay among the top runners of the MDS." I've run many mountain races, but the desert is totally different – I'm learning a lot." For Rachid, everything went as planned: "I was feeling well today. The course was more rolling than yesterday, with less sand. In the ascents and descents, everything went fine. I arrived third at CP2, then I accelerated towards the end." A standard strategy for Rachid: letting his opponents take the lead, controlling their progression, and then accelerating and winning the stage.
In the women's category, stage 2 was a copy/paste of stage 1: a complete domination of Nathalie MAUCLAIR (D114-FRA), who nevertheless took the time to enjoy the landscape – "it was beautiful…every time I reached a viewpoint, I stopped to look left and right," – followed by Mélanie ROUSSET (D365-FRA) and Rocío CARRIÓN (D215-PER). Despite a minor health issue, Mélanie was radiant upon arrival: "It was a beautiful stage, very varied. The canyon was beautiful, and the sand, harder than yesterday."
In the general classification, the gaps are already huge…but there's everything left to play for: there are still 163 km to go!
Stage Ranking (Provisional)
Men's Top 5
| | | | | | | |
| --- | --- | --- | --- | --- | --- | --- |
| BIB | 1st NAME | SURNAME | NAT. | Team | Time | Avg. |
| 001 | Rachid | EL MORABITY | MAR | | 4:18:23 | 9,75 |
| 003 | Remigio | HUAMAN QUISPE | PER | INKANSABLES | 4:25:36 | 9,49 |
| 236 | Gediminas | GRINIUS | LTU | | 4:26:04 | 9,47 |
| 378 | Aldo | RAMIREZ | PER | INKANSABLES | 4:50:50 | 8,66 |
| 111 | Julien | CHORIER | FRA | TEAM France | 4:53:37 | 8,58 |
Women's Top 5
| | | | | | | |
| --- | --- | --- | --- | --- | --- | --- |
| BIB | 1st NAME | SURNAME | NAT. | Team | Time | Avg. |
| 114 | Nathalie | MAUCLAIR | FRA | TEAM France | 5:00:41 | 8,38 |
| 365 | Mélanie | ROUSSET | FRA | WAA TEAM | 5:36:18 | 7,49 |
| 215 | Rocío | CARRIÓN | PER | PROMPERU | 6:12:04 | 6,77 |
| 340 | Aydee | SOTO QUISPE | PER | PROMPERU | 6:22:05 | 6,60 |
| 153 | Josephine | ADAMS | GBR | | 6:51:00 | 6,13 |
General Classification (Provisional)
Men's Top 5
| | | | | | | |
| --- | --- | --- | --- | --- | --- | --- |
| BIB | 1st NAME | SURNAME | NAT. | Team | Time | Avg. |
| 001 | Rachid | EL MORABITY | MAR | | 7:18:41 | 10,81 |
| 003 | Remigio | HUAMAN QUISPE | PER | INKANSABLES | 7:54:15 | 9,99 |
| 111 | Julien | CHORIER | FRA | TEAM France | 8:18:21 | 9,51 |
| 112 | Erik | CLAVERY | FRA | TEAM France | 8:39:32 | 9,12 |
| 378 | Aldo | RAMIREZ | PER | INKANSABLES | 8:43:57 | 9,05 |
Women's Top 5
| | | | | | | |
| --- | --- | --- | --- | --- | --- | --- |
| BIB | 1st NAME | SURNAME | NAT. | Team | Time | Avg. |
| 114 | Nathalie | MAUCLAIR | FRA | TEAM France | 8:58:54 | 8,80 |
| 365 | Mélanie | ROUSSET | FRA | WAA TEAM | 10:11:33 | 7,75 |
| 215 | Rocío | CARRIÓN | PER | PROMPERU | 11:30:57 | 6,86 |
| 340 | Aydee | SOTO QUISPE | PER | PROMPERU | 11:49:44 | 6,68 |
| 153 | Josephine | ADAMS | GBR | | 12:15:33 | 6,44 |
Live results: live.marathondessables.com/Peru
Facebook: Marathon Des Sables PERU