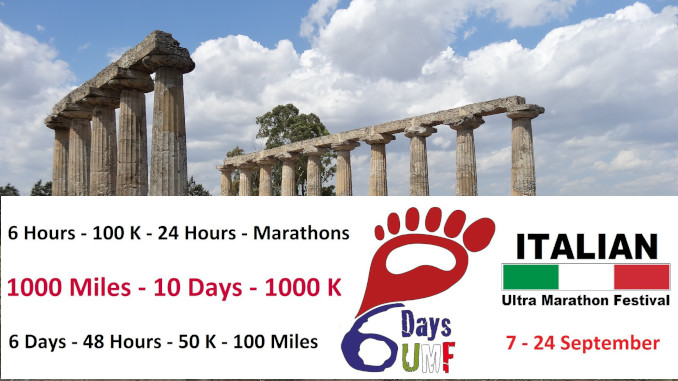 The Italian Ultra Marathon Festival 2020 is underway in Policoro in Southern Italy. A true festival with a variety of multiday events starting September 7th to September 25th 2020. The 6 day race has just drawn to a close with the 10 day, 1000km and 1000 mile events ongoing.
The 6 day race was won by Sten Osvärn (SWE) with 707.628km with Matteo Nocera (ITA) in second with 612.412 km and listed as third was Jean-Louis Vidal (FRA) also with 612.412 km. First woman was Sophie Jenniges (BEL) with 353.814km and second was Giuliana Montagnin (ITA) with 320.272km.
The 48 hour race was won by Valeria Empoli (ITA) with 306.206km. Second placed woman was Kirsi Bursio (ITA) with 227.22km and third was Edith Ventosilla (PER) with 210.99km. The first man was Roldano Marzorati with 285.648km.
The 24 hour was won by Michele Belnome (ITA) with 163.382 and first woman was Cosima Caramia (ITA) with 126.594km.
The 10 day race is still underway and is led by Marinella Satta.
The 1000 mile race has two competitors, Denis Orsini and Michelangelo Costanzo
Didier Sessegolo is the sole competitor in the 1000km race.
Links to results can be found on the race website: 6giornidelpantano.com