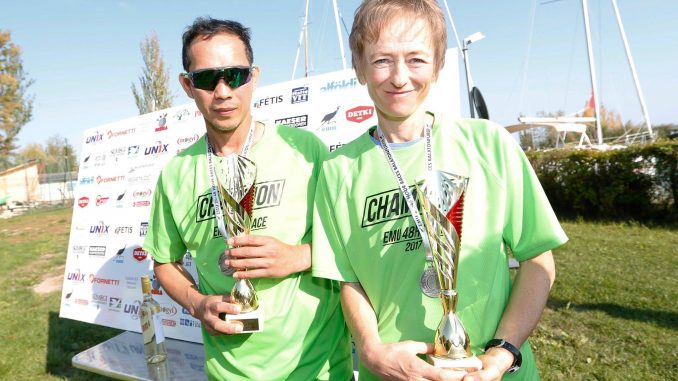 EMU-Unix-KAESER 48/24 Hour Ultramarathon took place September 29-Oct 1st at Balatonfured in Hungary. Julia Fatton set a new German womens 48 hour record winning the race outright and is the best womens 48 hour performance of 2017. This performance is an age group 45-50 World record and a World Road record (Multidays.com still acknowledges Road, Track and Indoor records).
Bernadette Benson was second with1 52.9253 km and Agnes Metzgerne Fazer was third with 140.5736 km
Rex Brillantes led the men in the 48 hour with 319.0021 km. Michal Remberk (POL) was second with 315.7573 km and Bulgarian multiday specialist Radi Milev took third place.
In the 24 hour, Viktória Makai (HUN) led the women with 207.6898 km, second place overall and Péter Molnár (HUN) was first man with 213.2673 km.
In nine runners set world, national and age-group records.
Orkney-based ultra marathon runner, William Sichel (64) celebrated his return to competitive ultra running, after a 6 month bereavement break, by setting two new records and winning his age group in the EMU Hungarian 48 Hour road running Championship in Hungary.
Running 189.83 miles/ 305.57 km over the two days William was 5th man and first in his age-group and added 5 miles to his British and Scottish over 60's, 48 Hour records which he set in America 4 years ago.
"I was pleased with my run although I have to admit that I felt a bit 'rusty' during the early hours as I tried to find my rhythme. I noticed a loss of speed which I will work on and I slowed a lot at the finish which is unlike me. So plenty to work on from now on. I have an intensive period of racing now with a 24 Hour indoor race in Norway on November 25th/26th and another 24 Hour, this time on a track in Barcelona on December 16th/17th. So I'm definitely making up for lost time."
William is well aware that he's now in the final year of his current age-group, for record-setting purposes, and needs to tackle a range of events on road, track and indoors to give him the best chance of amassing more record setting performances before he turns 65.
William is currently persuing his record-setting project called "Journey to 750" in which he is attempting to set 750 running records at World, British and Scottish level, including age-group records. Currently he has set 427 records, including 43 world age-group records and two Guiness World Records. His shortest record is for 30 miles on the track and his longest is an overall British record for 3100 miles/5000km on the road.
EMU 48/24 Hour Races Results
| | | | |
| --- | --- | --- | --- |
| Pos | Name | Ctry | Km |
| Women | 48 hours | | |
| 1 | Julia Fatton | GER | 378.0829 |
| 2 | Bernadette Benson | HUN | 152.9253 |
| 3 | Agnes Metzgerne Fazer | HUN | 140.5736 |
| | | | |
| Men | 48 hours | | |
| 1 | Rex Brillantes | PHL | 319.0021 |
| 2 | Michal Remberk | POL | 315.7573 |
| 3 | Radi Milev | BUL | 312.56 |
| | | | |
| Women | 24 hours | | |
| 1 | Viktória Makai | HUN | 207.6898 |
| 2 | Szvetlana Zétényi | HUN | 194.0194 |
| 3 | Vass Melinda | HUN | 100.0566 |
| | | | |
| Men | 24 hours | | |
| 1 | Péter Molnár | HUN | 213.2673 |
| 2 | Tihor Csaba | HUN | 167.8455 |
| 3 | Bakó Gábor | HUN | 161.9102 |
| | | | |

Race Links
Live Results: www.emusport.hu
Facebook: Emu 24 & 48 hour race
Photos: Szilvia Oszi