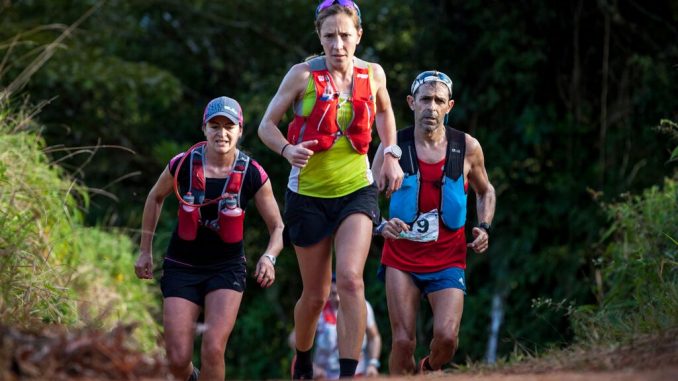 Stage 5 – The Coastal Challenge 2018.
February 15, 2018 – Drake Bay, Corcovado.
The #TCC2018 begins to crumble the group with the heat and the difficulty of the terrain. This was the longest stage of # TCC2018 with 50km, and it was an impressive day.
Most of the course of the fifth stage can be run, which is good for those competitors who have speed skills in gravel terrain, but it was also a challenging day since the competitors have already covered 200km of mountains and coasts and the heat and the sun have made theirs in the competitors
After a 25km journey in mountain and gravel, competitors reached the coast. On arrival, a boat with oars waited for the competitors to cross to the last position of assistance, 10km to the goal.
This water crossing gave the competitors an opportunity to rest and cool off, which, although short, was extremely important at this point in the course.
The final segment was a combination of footpath and beach to reach the community of Drake Bay, where the competition will end tomorrow (today).
Subtract 22.5km for the final goal and the standings changed. A 2/3 of the way the local Jorge Paniagua and the British Marcus Scotney did not notice a deviation and finished the tour without reaching one of the assistance positions, for which they were disqualified. Both Scotney and Paniagua had a great race, Scotney was in third place and fought for the title of best Costa Rican.
The American Mike Wardian jumps to the third position and the locals fight to rise in the table tomorrow, separated by just a few minutes.
In the group of women, Ragna Debats continues in the first position and will be, without a doubt the next champion of The Coastal Challenge tomorrow.
Suzanna Guadarrama reached the finish in second position and third place in the accumulated table. Guadarrama ran an impressive stage and approached the second place in the general standings, the Portuguese Ester Alves, but not enough to be able to trace what remains of Alves.
Ester Alves enters the third position.
Etapa5
Tom Evans 4:32:14
Hayden Hawks 4:32:13
Erick Aguero 5:11:46
Mike Wardian 5:16:22
Neruda Cespedes 5:19:18
Ragna Debats 5:34:55
Suzanna Guadarrama 6:01:34
Ester Alves 6:22:51
Josephine Adams 7:17:23
Kerri Treheme 7:36:16
Links
Photo by Andrés Vargas – The Coastal Challenge
Link to accumulated results: 

: https://www.webscorer.com/seriesresult?seriesid=125068
Race website: www.thecoastalchallenge.co.uk
Facebook: www.facebook.com