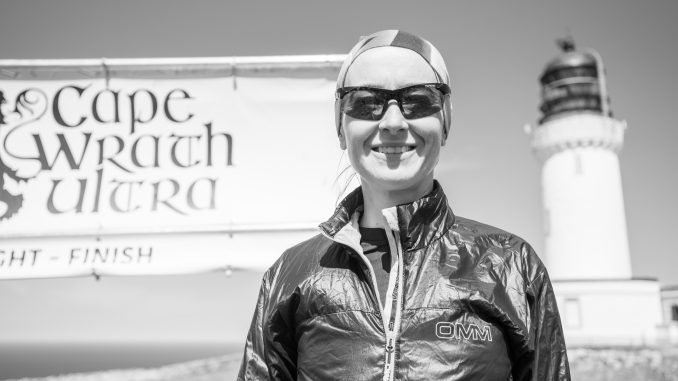 Robert Barnes and Carol Morgan triumph in the Cape Wrath Ultra 2018.
After strong races from both throughout the eight-day, 400km race in the north-west of Scotland, Robert Barnes, (GBR), finished 2 hours 6 minutes ahead of second placed Jim Mann, (GBR). Third place Jamie Ramsay (GBR) was another hour and 24 mins behind Jim Mann.
After crossing the finish line at Cape Wrath, the most north-westerly point on the British mainland, Barnes said: "I have enjoyed the race and I am pleased to win. It has been a great week. I did struggle on the rockier terrain because I am not used to that but I like running on grass and heather and there has been enough of that. Fisherfield on day five was my hardest day but really I have been fine and suffered no injuries."
Runner-up Jim Mann, 41, won the legendary sister race, the Berghaus Dragon's Back Race in 2015 and was second in 2017. He said: "The Cape Wrath Ultra has been a great race although tough for me. On day 3 I wasn't sure I would be able to continue because I felt so fatigued due to illness but I have made it. I am tired now and relieved to have reached the finish line. I would like to go back to see all the great scenery that I didn't fully appreciate while running." Jim also paid tribute to the winner. He said: "Robert ran a fantastic race. He nailed it and I am pleased for him."
38 year old third placed Jamie, who finished in 49:07:17 and who is originally from Scotland, now living in London, said: "I have had a fantastic time and I have been very appreciative of all my fellow runners who have supported me throughout the event. I feel humbled by the Cape Wrath Ultra."
Carol Morgan (IRL) was the first woman in Cape Wrath Ultra 2018 in 55:11:53 confirming her place as one of the UK's best ultra runners. She finished 2 hours and 42 minutes ahead of Sarah Witte for an impressive 12th place overall. Last year Carol won the Berghaus Dragon's Back Race® and the Montane Spine Race.
At the finish line yesterday, Carol, 44, said: "I feel great. Yesterday was a hard day for me and I felt fatigued after so many days of running. I think I was also mentally tired. So, it is great to reach Cape Wrath. It feels like we have run to the edge of the world".
Runner up Sarah Witte, (GBR) who finished in 57:53:27, said: "It has been an amazing experience. I have been through every type of emotion from tears to joy. The people I have shared a tent with have been brilliant. There were all kinds of people and some I would not normally mix with but I have greatly enjoyed meeting them all. It has been inspiring."
Third placed Karoline Hanks, 47, (RSA) said: "I had no idea what to expect in this race and I really did not think I would end up in third place. I think Carol and Sarah are much stronger than me although I did enjoy dancing through the grass near the beach with Sarah earlier today. But then she took off because she has more power in her quads than me. It has been a tough race but I have enjoyed myself very much. I think the end of the Cape Wrath Ultra was the best location of any race finish I have ever done. It was fantastic."
Race director Shane Ohly, of Ourea Events, said: "It has been an incredible week and there are so many superlatives to describe the weather, scenery and participants. I have been impressed by all the competitors and I think Robert Barnes is a name to keep an eye on in future ultra-running races. I am also very pleased for Carol Morgan who has again showed her amazing strength and determination in these endurance events.
"I am very grateful to an amazing event team, including staff and volunteers, for all their support. What a successful week and we can't wait until the next one. The complexities of the event have challenged participants and the event team in equal measure. But spirits have been high throughout and the finish line at Cape Wrath lighthouse was a perfect end to an incredible race."
Top three Men
1. Robert Barnes, England, 45:37:23
2. Jim Mann, England, 47:43:25
3. Jamie Ramsay, Gore ambassador, 49:07:17
Top three Women
1. Carol Morgan, Ireland, 55:11:53
2. Sarah Witte, England, 57:53:27
3. Karoline Hanks, South Africa, 59:03:58
· 177 runners on Cape Wrath Ultra 2018 start line
· 110 (62%) completed full course
· Fort William to Cape Wrath, Scottish Highlands
· 8 days, 400km, 11,200m ascent
Links
Website: www.capewrathultra.com
Facebook: www.facebook.com/CapeWrathUltra
Results: live.opentracking.co.uk/capewrath
Twitter on @capewrathultra