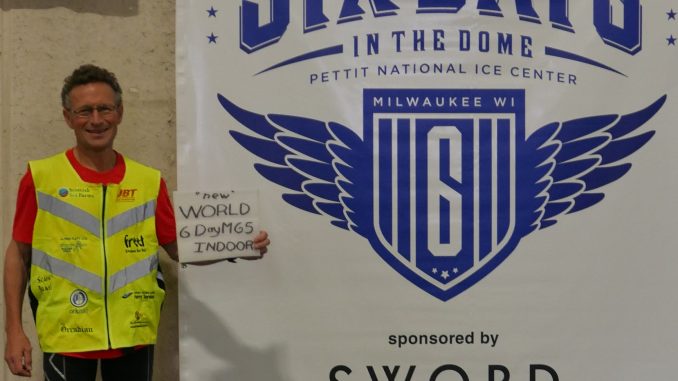 Sichel re-writes record books in Milwaukee
Orkney-based ultra marathon runner, William Sichel returned from Milwaukee's "6 Days in the Dome" indoor ultramarathon having set 23 new over-65 age-group records including a new 6 Day World Age Group best performance.
William finished 11th overall (first in his age group)from 66 starters running 434.82 miles/699.77 kms during the 144 hours of the race.
"It was great setting so many new records at World, British and Scottish level at distances such as 30 miles, 50 km, 40 miles, 50 miles, 100miles, 200km, 48 hours and so on, but the icing on the cake was adding 59.6 miles onto the existing World Indoor record for my age group."
6 Days in the Dome was held at the Pettit National Ice Centre in Milwaukee which boasts a three lane, 443.45m indoor track laid out around the various ice rinks. The winner was the USA's Joe Fejes who covered 532.64 miles. First woman was Connie Gardner with 420.2142 miles/676.2692 km.
"The organisers did a great job for a first event at this unusual venue. The environment didn't feel as cold as expected but it was very noisy for very long periods which was unsettling for the runners. On the whole though the event was rated as a great success and it's hoped that it will return next year."
William would like to thank his sponsors for making the trip possible and to his crewman Alan Young for his support throughout the trip.
William is currently persuing his record-setting project called "Journey to 750" in which he is attempting to set 750 running records at World, British and Scottish level, including age-group records. Currently he has set 716 records, including 45 world age-group records and two Guiness World Records. His shortest record is for 30 miles on the track and his longest is an overall British record for 3100 miles/5000km on the road.
Top three Men and Women
| | | | | |
| --- | --- | --- | --- | --- |
| Pos | Name | Ctry | Km | Miles |
| Men | | | | |
| 1 | Joe Fejes | USA | 857.1989 | 532.6387 |
| 2 | Bob Hearn | USA | 853.2078 | 530.1587 |
| 3 | Dave Johnston | USA | 843.4518 | 524.0967 |
| | | | | |
| Women | | | | |
| 1 | Connie Gardner | USA | 420.2142 | 676.2692 |
| 2 | Yolanda Holder | USA | 413.3254 | 665.1828 |
| 3 | Sandra Villines | USA | 400.3746 | 644.3404 |
| | | | | |
Links
6 Days In The Dome race website: www.run6days.com
Full Results: my6.raceresult.com
William's main sponsors: Scottish Sea Farms  Alfred Flett Ltd  JBT Distribution
William's website: www.williamsichel.co.uk