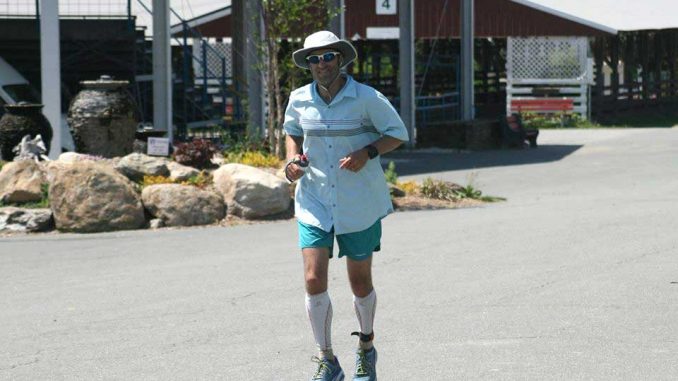 News from 3 Days At The Fair 2017 – 6 Day Race:
Ella Roberta Lombardi has built a slight lead over Carilyn Johnson as the women battle it out at the mid-point of the race. Third placed Darlene Kresse has been steadily moving up the the overall field and is now 14th place.
Jeffrey Dimaggio has a cushion over Fred Murolo who passes the resting duo of David Lettieri and Dong Lin, both poised on 200 laps which, according to the website, is 200 miles. Jeffrey finished the Last Annual Vol State race in 2016 in 7th place – 500 km in just over 121 hours.
| | | |
| --- | --- | --- |
| Pos | Name | Miles |
| Women | 6 Day | |
| 1 | Ella Roberta Lombardi | 203 |
| 2 | Carilyn Johnson | 193 |
| 3 | Darlene Kresse | 179 |
| | | |
| Men | Day | |
| 1 | Jeffrey Dimaggio | 217 |
| 2 | Fred Murolo | 201 |
| 3 | David Lettieri | 200 |
| | | |
Links
Race Facebook
Race website: 3 Days At The Fair
Related Posts
3 Days At The Fair 2017 – 6 Day Race
3 Days At The Fair 2016