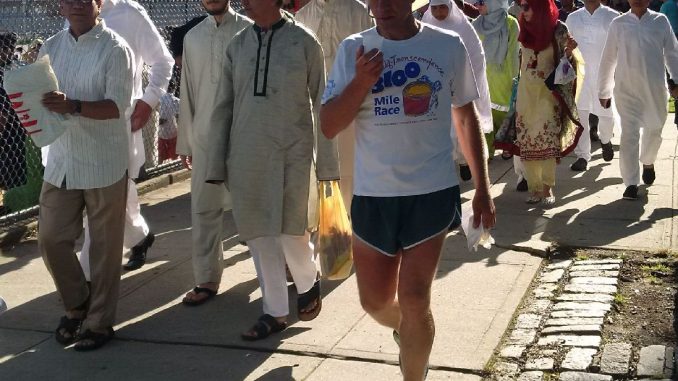 Self-Transcendence 3100 Mile Race 2017 – Daily Updates – Day 8
Daily Update
Sunday 25th June
A cool calm (wind wise) start to the day. Usual start up work completed but we lose our Manager of the Drinks Food table. Tomorrow it will be Yuri Trostenyuk and I to set these up. Today it was like a practical exam. But tomorrow we will see.
Ramadan has just ended and the Muslims have a great festival known as Eid Al – Adha or "festival of sacrifice.
Here in Jamaica NY there is a large Muslim population and their festival takes place in the park beside the pavement used by the runners. So 12,000 (yes 12,000) descend on the race and swamp our TEN. From around 7:30 to 10:30 am. There is bedlam. Making it almost impossible for our runners to weave through them. So it will be interesting to see if it has an effect on today's distances.
A spectacular sight of thousands halting and placing their prayer mats on the footpath and road, kneeling and praying.
At 10:00 am they flood out of the park and back along the road and footpath. It is just impossible to direct them around the runners.
However it all passes very amicably, and we return to our "normal"
Weather today, although sunny, is a little cooler and ideal conditions, as humidity is also low.
75C 21%.
Afternoon is lap recording and alteration to runners shoes.
Crew chief
Latest Scoreboard