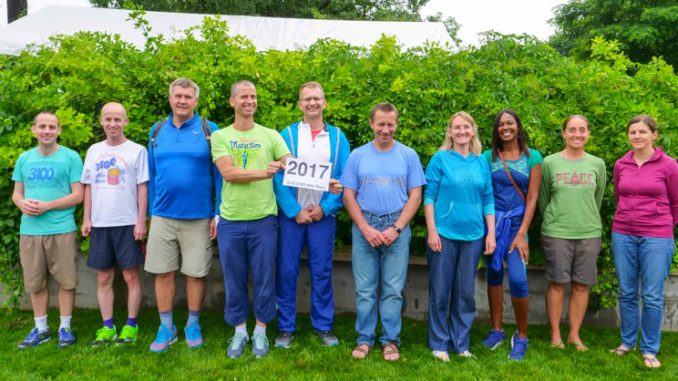 The Self-Transcendence 3100 Mile Race 2017, the worlds longest certified footrace began this morning in Queens, New York. The 10 runners, 6 men and 4 women, gathered together yesterday for a final briefing. The race began around 6 this morning local time.
This is the 21st edition of this race which began as the 2,700 mile race in 1996 and was lengthened in 1997 by the race founder, Sri Chinmoy, to 3100 miles. The runners have 52 days to complete the distance which averages out to 59.615 miles per day. The course is open for 18 hours starting at 6 am and closing at midnight. The runners retire to their nearby accomodation and return for the start each morning. Food and drinks are brought to the track each day and all other needs are taken care of as well. Massage therapists and Chiropractors attend on a regular basis to help the runners with any problems/injuries that may arise.
The course is a mostly concrete .54 mile loop on a sidewalk around Thomas Edison High in Queens, partly shaded. Temperatures vary as the race often has late Spring weather at the start and full on summer by the end of July beginning of August and high temperatures with high humidity are not uncommon.
Unfortunately William Sichel withdrew just a few days before the start of the race due to family circumstances and we wish his family the best. Alan Young who acts as William's crew is helping out at the race and hopefully will be sending news direct from the track.
The Self-Transcendence 3100 Mile Race 2017 Runners
Ananda-Lahari Zuskin 42, Kosice, Slovakia (5 finishes)
Andrey Andreev 51, St Petersburg Russia (Debut)
Harita Davies 42, Christchurch New Zealand (Debut)
Kaneenika Janakova 47, Bratislava, Slovakia (2 finishes)
Nidhruvi Zimmermann 51, Vienna, Austria (1 finish)
Nirbhasa Magee 37, Dublin Ireland (1 finish)
Sergey Kuzmin 44, Nizhniy Novgorod Russia (Debut)
Smarana Puntigam 46, Vienna Austria (7 finishes)
Vasu Duzhiy Age 51, St. Petersburg, Russia (5 finishes, 1 win)
Yolanda Holder 59, Corona,CA USA (Debut)
Race Links
Race website: Self-Transcendence 3100 Mile Race
Utpal Marshall's Perfection-Journey
Yolanda Holder Facebook
Multidays.com The home of multiday running news and events.