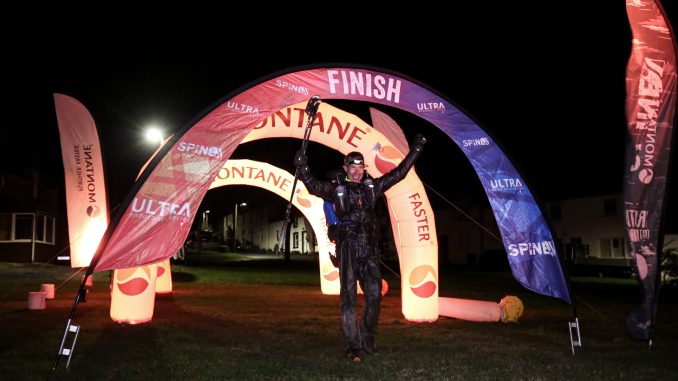 The race leaders have crossed the finish line of the Montane Spine Race 2022 along the 268 mile Pennine Way after an exciting start saw the lead change hands as the early pace setters led the field north after a wet start to this years race. Anna Troup had a couple of falls in the first few miles that forced her to pull out at the first checkpoint while Sabrina Verjee pulled ahead in the early stages for the women and Kim Collison and Damian Carr led for the men.
The Malham Checkpoint saw both Kim Collison and Sabrina call it a day which left Damian Carr with several hours ahead of Eugeni Roselló Solé (ESP). However just a few hours into the second day Damian retired at Alston with Eugeni taking over the lead with Tiaan Erwee (RSA) in second place. This was shortlived however as Tiaan dropped at Middleton and Eugeni retiring at Greenhead. This left Eoin Keith (IRE) with the lead at Horneystead Farm which he held until Kirk Yetholm finishing in 92:40:30 for his third winter win following his Summer victory in 2021.
Debbie Martin-Consani wins the women's race finishing in 104:08:22 7th overall and currently in 2nd place is Elaine Bisson and third is Lizzie Faithfull-Davies.
Update: Elaine Bisson who won the women's Spine Challenger in 2020, third overall reached Kirk Yetholm in 107:00:38.
Follow the Montane Spine Race live tracking
Race website: thespinerace.com
Favebook: facebook.com/TheSpineRace
Debbie Martin-Consani interview