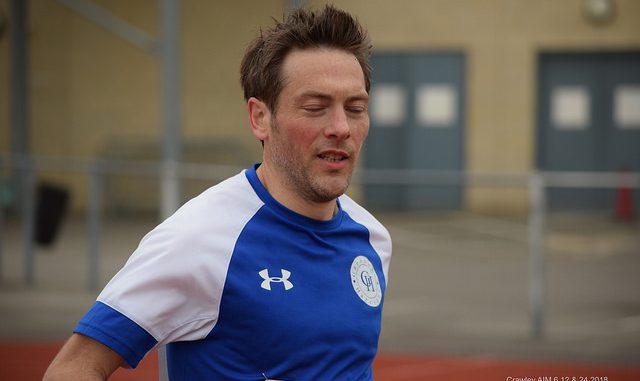 The Crawley AIM 24/12/6 Hour Race 2018 results are available on the race website.
Not so much sunshine last weekend at the Crawley AIM 24/12/6 hour races last but nevertheless some shining performances in all events.
Grant Macdonald ran a great race to set a new course record with 233.73 km. Dave Moore covered 193 km just over 120 miles for second placed man and Paul Beechey was third.
Sarah Sawyer set a new womens course record with 205.6 km on her 24 hour debut finishing second overall. Helen James ran a good race for second and third placed Dawn Gardner got her qualifying time for Spartathlon. Six of the top eight finishers were women from 31 starters.
Susan McCartney qualified for the Irish 100 km squad.
Norbert Mihalik who won the Self-Transcendence Tooting Bec 24 hour in 2017 with 259 km, good enough for 9th best performance in the world last year put in a good shift to win the 12 hours with 142 km. Mark Bissel was happy with his performance for second place and Wayne Sara venturing onto the track taking the third podium place .
Karen Wallace edged Anne Jennings for the top spot and Bridget Groves returned for a podium finish.
Dan Lawson dominated the 6 hour with 81 km and Paul Ali had a good race and his report is at the link below. Richard Quennell was beaten for third place by a great run from womens winner Tracy Dean continuing her preparation for the 24 hour championships in Timisoara, Romania in May. Third woman was Collingwood AC member Ria Trundley.
| | | |
| --- | --- | --- |
| Pos | Name | Km |
| Men | 24 hour | |
| 1 | Grant MacDonald | 233.73 |
| 2 | Dave Moore | 193.626 |
| 3 | Paul Beechey | 146 |
| | | |
| Women | | |
| 1 | Sarah Sawyer | 205.683 |
| 2 | Helen James | 188.381 |
| 3 | Dawn Gardner | 177.2 |
| | | |
| Men | 12 hour | |
| 1 | Norbert Mihalik | 142.606 |
| 2 | Mark Bissel | 133.753 |
| 3 | Wayne Sara | 119.966 |
| | | |
| Women | | |
| 1 | Karen Wallace | 110.95 |
| 2 | Anne Jennings | 109.787 |
| 3 | Brigitte Groves | 73.067 |
| | | |
| Men | 6 hour | |
| 1 | Dan Lawson | 81.211 |
| 2 | Paul Ali | 72.839 |
| 3 | Richard Quennell | 69.735 |
| | | |
| Women | 6 hour | |
| 1 | Tracy Dean | 70.840 |
| 2 | Emily Foy | 58.809 |
| 3 | Ria Trundley | 32.800 |
| | | |
Links
Photos by Jon Lavishttps://www.flickr.com/photos/jel183/sets/72157694644571704
Download the full Crawley AIM 24/12/6 Hour results
Sarah Sawyers race report – Crawley 24 Hours – Things I Learnt from Running Around a Track for 24 Hours
Paul Ali's race report 2018 Crawley 6 12 24 hour