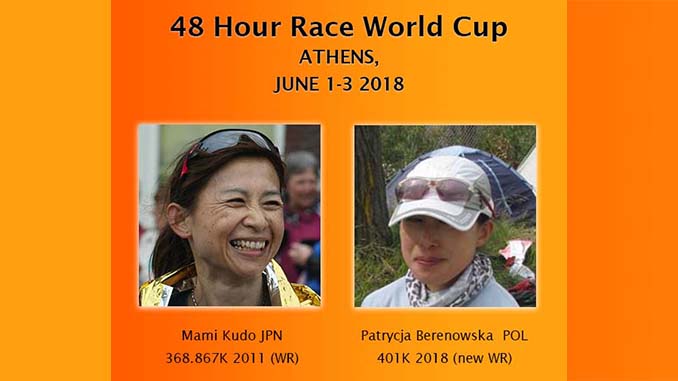 Race Director, Costas Baxevanis has announced a new and probably the final event at the old Hellinikon–Athens airport this year – the Athens 48 Hour World Cup 2018 taking place June 1-3.
The site of many excellent performances during those 13 years the Athens International Ultra festival took place. Those performances include three 3 World Best Performances. In 2007 Wolfgang Schwerk ran 420k (a 48 hour split, 7-day race); Mami Kudo in 2011 covered 368.687K (48 hour race); and the last one in January 2018, setting a new world record at 48 hours was Patrycja Bereznowska running 401k; 21 national records and 57 age group records were also set.
The 1 km looped course is described by the RD as "the fastest course in Europe" and the 24 hour event is usually the Greek National 24 hour and where the National squad can get selected.
Performances from past 48 Hour races in Athens:
WOMEN
MAMI KUDO JPN 368.867K 2011 (WR)
BEREZNOWSKA PATRYCJA POL 401K 2018 (new WR)
MEN
WOLFGANG SCHWERK GER 420K (split) 2007
MARCHESI TIZIANO ITA 407.885K 2014
The site is being redeveloped and will no longer be available. We await news of a new venue for the International Ultrafestival 2019.
ORGANIZED BY THE ASSOCIATION OF GREEK DAYRUNNERS DEDICATED TO RESEARCH FOR CANCER VACCINES.
RACE DIRECTORS: COSTAS BAXEVANIS, JOHN CHORTIS
Website: http://www.dayrunners.gr/
Facebook: Athens Ultramarathon Festival