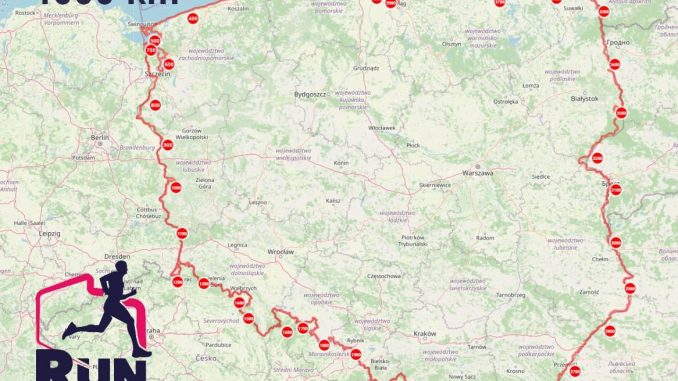 Polish ultrarunner Artur Kujawinski is undertaking a 4000km run around his country. Starting on July 25th in Gdansk Artur is following an anticlockwise route that will take an estimated 49 days to return to the starting point in Gdansk. The run is self-supported meaning that Artur is finding supplies from shops and supermarkets along the way.
Today was day 26 and and saw Artur in the mountains.
Artur is posting everyday on his facebook page and you can follow his adventures there and through these links.
Here is the official announcement. https://youtu.be/AaI3wUyyDtE
Follow Artur on his #RunAroundPoland at: http://event.trackcourse.com/view/run-around-poland-2021
Daily reports posted on the profile page. https://www.facebook.com/arturkujawinskiultrarunner
YT Channel: https://youtube.com/c/UltraManiac
Date and places:
25.07 Sopot – Gdynia – Puck – Jastarnia 78 km
26.07 Jastarnia- Hel – W?adys?awowo – Bia?ogóra 168 km (90)
27.07 Bia?ogóra – ?eba – Ustka 255 km (87)
28.07 Ustka – Dar?owo – Mielno 336 km (81)
29.07 Mielno – Ko?obrzeg – Pobierowo 418 km (82)
30.07 Pobierowo – Mi?dzyzdroje – ?winouj?cie – Karsibór 507 km (89)
31.07 Karsibór – Stepnica 578 km (71)
01.08 St?pnica – Szczecin – Police / Trzebie? 672 km (94)
02.08 Trzebie? – Ko?baskowo 755 km (83)
03.08 Ko?baskowo – Cedynia 830 km (75)
04.08 Cedynia – S?ubice – 928 km (98)
05.08 S?ubice – Gubin 1,015 km (87)
06.08 Gubin – Transport 1100 km (85)
07.08 Transport – Zgorzelec – Bogatynia 1211 km (111)
08.08 Bogatynia – Szklarska Poreba 1,325 km (114)
09.08 Szklarska Poreba – Lubawka 1381 km (56)
10.08 Lubawka – Radków 1461 km (80)
11.08 Radkow – Niemojow 1545 km (84)
12.08 Niemojow – Nowy Giera?tów 1,615 km (70)
August 13 Nowy Giera?tów – Z?oty Stok – G?ucho?azy – Podlesie 1,699 km (84)
14.08 Podlesie – Branice 1,801 km (102)
August 15 Branice – Krzanowice – Cha?upki 1,881 km (80)
16.08 Cha?upki – Czantoria 1974 km (84)
17.08 Czantoria – Krawcowy Wierch 2055 km (80)
18.08 Krawcowy Wierch-Jab?onka 2,134 km (79)
19.08 Jab?onka – Chocho?owska Clearing 2,177 km (43)
20.08 Polana Chocho?owska – Roztoka Valley 2,231 km (54)
August 21 Roztoki Valley 2231 – Shelter under Durbaszka 2291 km (60)
22.08 Shelter under Durbaszka 2291 – Village Wojkowa 2358 km (67)
23.08 The village of Wojkowa – Barwinek 2,444 km (86)
24.08 Barwinek – Ustrzyki Górne 2,554 km (110)
25.08 Ustrzyki Górne – Ustrzyki Dolne 2,642 km (88)
26.08 Ustrzyki Dolne – Leszno / Nak?o 2,720 km (78)
27.08 Leszno / Nak?o – near Hrebenne 2,801 km (81)
August 28 near Hrebenne 2801 – Kry?ów 2,880 km (79)
29.08 Kry?ów – Dorohusk The settlement 2,962 km (82)
30.08 Dorohusk Osada – W?odawa 3,028 km (64)
August 31 W?odawa – Terespol 3,110 km (82)
01.09 Terespol – Mielnik 3,174 km (64)
02.09 Mielnik – Gruszczewina 3,278 km (104)
03.09 Gruszczewina – Krynki 3,364 km (86)
04.09 Krynki Rudawka – 3445 km (81)
05.09 Rudawka – Podwojponie – 3530 km (85)
06.09 Podwojponie – Go?dap – 3,612 km (72)
07.09 Go?dap – S?popol 3,719 km (107)
08.09 S?popol – G??bock 3,785 km (66)
09.09 G??bock – Kamionek Wielki 3870 km (85)
10.09 Kamionek Wielki – Krynica Morska 3,954 km (84)
11.09 Krynica Morska – Sopot 4026 km (72)