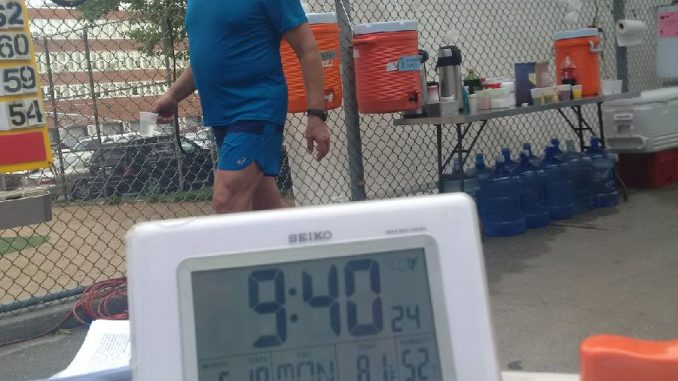 Self-Transcendence 3100 Mile Race 2017
Daily Updates – Day 2 – Alan Young
Monday 19th June.
Brrrrrr 4:30 am alarm goes off
Ohh this room is cool and comfortable. Ohh on set up duty, so up, washed and out on that 7 min walk to venue.
Troops already there and met by night Watchman? Ray K who has already been hard at work.
Tables and chairs out and? we start to populate the drinks and food tables.
In a flash Day 2 starts.
A little nerve racking as they put me in charge of lap counting. For the first two hours we have two lovely ladies covering 5 runners each. From 8 till 10 Rupuntar and I take cover and snatch a little breakfast.
Yolanda had a difficult day with tummy issues and today we are trying to help her through. Now on the "Sichel cure" diet and slowly she is improving and sensibly taking a break during the hottest part of the day. Temp in shade around 29c humidity 27 at mid day.
So perhaps no afternoon nap today as we try to coax Yolanda. However this to no avail as she has been very sick. So she rests till 7 pm so my afternoons back on and once again I make the 7 mins walk into my lovely cool basement apartment.
Quite sleepy as I set the alarm for 6pm.
ZzZzzzzzZzzzzzzz
Woken at 5:30pm by massive thunderstorms. Shower shave and get ready to venture out. Looks like New York will benefit from "Team Sichel" waterproofs
?Heavy heavy now and forecast for all evening. Think I am security tonight
Yolands seems to have recovered a liitle and walking very strong in the heavy as she strives for more laps.
Crew Chief
Race Links
Race website: Self-Transcendence 3100 Mile Race
Utpal Marshall's Perfection-Journey Day 2: I want to have more Joy
Yolanda Holder Facebook
Race photos 2017