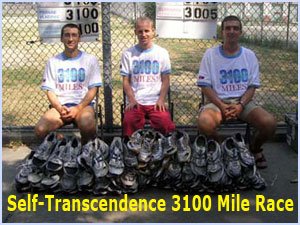 The 2013 Self-Transcendence 3100 Mile Race gets underway Sunday morning, June 16th at 6 am New York time. This is the 17th edition of the race created by Sri Chinmoy, the founder of the Sri Chinmmoy Marathon Team (SCMT) and this year, for the first time, there will be three women participating in the worlds longest certified footrace.
Surasa Mairer who took part two years ago returns with two newcomers Nidhruvi Zimmerman and Sarah Barnett one of the leading multiday runners in the world at this time.  Nidhruvi is no stranger to multiday races having  performed well through the 90's and 00's finishing the Sri Chinmoy 1300 mile race in 2000 and setting a 6 day pb in 2002 with 720 km. Sarah has been running 6 and 10 day races for several years having twice surpassed 700 km with a best of 714 and earlier this year ran a comfortable 637 km at the Athens 6 day race.
Also lining up for the first time at the 3100 is Yuri Trostenyuk who has been running at the Spring Self-Transcendence races since 2007 and in 2012 ran 732 km for 6 days on his way to victory with 1176 km in the 10 day race.
Returning to the race after a year off is Ashprihanal Aalto. This will be his 12th race and he has seven victories in that total and a best performance of 43+04:26:32 in 2007  a time only bettered by Madhupran Wolfgang Schwerk.
As well as Pranjal Milovnik posting a short video every day on his days running, Utpal Marshall will be posting stories on his blog Perfection-Journey. Associate Race Director Sahishnu will be posting on 3100.ws, I hope to have news from Sopan as well as the daily updates on the website – quick links to which can be found in the sidebar.
The Self-Transcendence 3100 mile runners 2103
| | | | |
| --- | --- | --- | --- |
| | Name | Age | Country |
| 1. | Ashprihanal Aalto | 42 | Helsinki, Finland |
| 2. | Sarvagata Ukrainskyi | 39 | Berdansk, Ukraine |
| 3. | Atmavir Spacil | 34 | Zlin, Czech Republic |
| 4. | Pranjal Milovnik | 40 | Bratislava, Slovakia |
| 5. | Ananda-Lahari Zuscin | 37 | Kosice, Slovakia |
| 6. | Sopan Tsekov | 31 | Sofia, Blugaria |
| 7. | Vasu Duzhiy | 47 | St. Petersburg, Russia |
| 8. | Surasa Mairer (female) | 55 | Vienna, Austria |
| 9. | Baladev Saraz | 36 | Slovakia |
| 10. | Yuri Trostenyuk | 49 | Vinittsa, Ukraine |
| 11. | Sarah Barnett (female) | 37 | Adelaide, Australia |
| 12. | Nidhruvi Zimmerman (female) | 47 | Vienna, Austria |