I have no financial interest in the companies listed on these pages.
Ongkar
Tony Smith, who passed away in February 2006 his wife Vinodini, their beautiful daughters, Shankara and Dipika and a dedicated team have been working very hard for 20 years or so creating
a specialist running shoe store that has been providing outstanding
service to the running community at first in London, then in Edinburgh
and most recently in Cardiff. The staff
has grown in size and so have the London premises – twice the
size it was in the beginning due to tremendous customer support.

Over the years they have acquired considerable expertise in recommending
suitable footware for runners of all abilities. Run and Become is
a valuable resource for the UK running community which I have been
using for almost 15 years.
Runners clothing and equipment available:
One of the few powder form drinks that I like is Carbo-Load made by
Leppin and stocked at Run & Become. This product is not available
in the US which is a pity.

Run
& Become also stock NB 854's which again are unavailable in
the US. This useful shoe was replaced by the 855 and then by the
856. Both of these shoes have very little in common with the 854.
The latest version that New Balance have produced is the 859. The
fitting is ok and the sole lasts a lot longer than before.
---
---

ZombieRunner
Run by Gillian Robinson and Don Lundell provides products and information
for trail runners, ultrarunners, and people who love being out on
the trails.

Multisport store run by Benoît Laval – Raidlight.com
– multilanguage
---
Gaiters:
Xy Weiss – Dirty
Girl Gaiters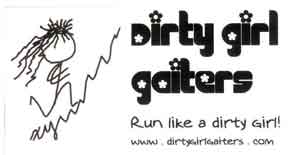 Joe Dana – Gaiters
By JoeTrailMan I used Joe's Gaiters at Across The Years 2006
– Do not run this race without gaiters.