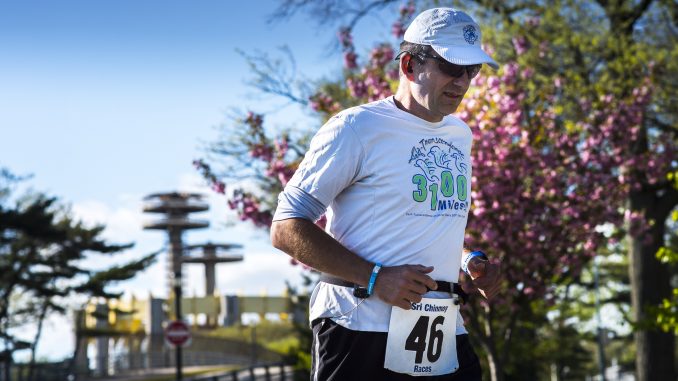 Sri Chinmoy 10 & 6 Day Races 2019
Day 5 Updates
Budjargal Byambaa led the day again with the most miles but his lowest daily total so far Mahasatya remains in second with three miles on Leanid Anatska from Belarus moving into third place. Andrea Mercato is in fourth and Takasumi dropped slightly to fifth place.
Womensleader Makula Samarina only covered 40 miles allowing second placed Petra Kasperova to cut into Makulas cushion and now lies 12 miles behind the leader. Giribhu Muhs moved into third place with a 50 mile day.
The  Sri Chinmoy 6 day race began yesterday and race favourite Joe Fejes leads with a 100 miles after 24 hours followed closely by fellow American John Geesler with 98.4 miles. Third was Enkhbaatar Jambaldevee (MNG) with 93.6 miles. Fourth is Katsuhiro Tanaka (JPN) with 86.4 miles and Batsukh Sharav in fifth place (MNG) has 88 miles.
Former winner Susan Marshall (NZL) leads the women's race with 92.8 miles and Annabel Hepworth (AUS) lies in second 4 miles back and Huang Lan Yang has the third spot with 76 miles.  Nayaja Perugini (ITA) and Batchimeg Jigjidsuren (MNG) were tied with 68.4 miles.
| | | | |
| --- | --- | --- | --- |
| Pos | Name | Ctry | Miles |
| Men | 10 Day | | |
| 1 | Budjargal Byambaa | MNG | 416.8 |
| 2 | Mahasatya Janczak | POL | 341.6 |
| 3 | Leanid Anatska | BLR | 338.4 |
| | | | |
| Women | 10 Day | | |
| 1 | Makula Samarina | UKR | 296 |
| 2 | Petra Kasperova | CZE | 284.8 |
| 3 | Giribhu Muhs | GER | 278.4 |
| | | | |
| Men | 6 Day | | |
| 1 | Joe Fejes | USA | 100 |
| 2 | John Geesler | USA | 98.4 |
| 3 | Enkhbaatar Jambaldevee | MNG | 93.6 |
| | | | |
| Women | 6 Day | | |
| 1 | Susan Marshall | NZL | 92.8 |
| 2 | Annabel Hepworth | AUS | 88.8 |
| 3 | Huang Lan Yang | TWN | 76 |
| | | | |
Race website: us.srichinmoyraces.org
Daily videos and photos on Perfection-Journey
Photos at Spontaneous Beauty