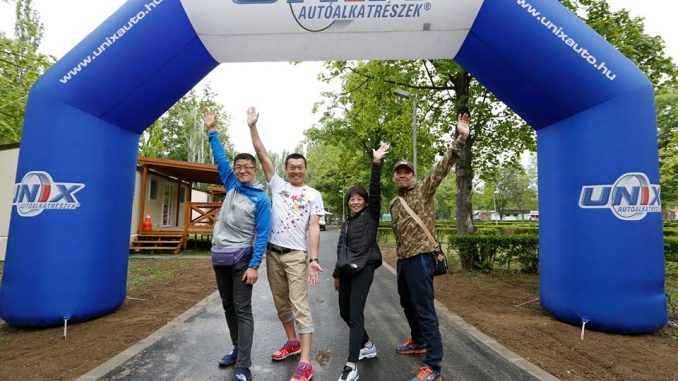 The EMU 6 day Race 2017 starts today at 12 noon, on a new course at the traditional venue in Balatonfured in Hungary.
This is the seventh edition of this extreme endurance event and with a brand new 1 km looped, paved, traffic free course the organisers are hoping the improved course will be reflected in performances.
With a star studded field its definitely an exciting prospect and preparations are in full swing with about 10 hours to go.
The EMU 6 Day Race 2017 start list features 95 runners from 28 countries contesting the World Trophy – the unofficial World 6 day Championships.
The women's favourite is last year's winner from Japan, Sumie Inagaki. Canadian Charlotte Vasarhelyi returns as does Australian Sarah Barnett and Silke Gielen from Germany.
In the mens race German Wolfgang Madhupran Schwerk the top German multiday runner is back after setting records in the 2016 event. He will be up against the South African Johann Van Der Merwe who is determined to put in a good performance. Frenchman Olivier Chaigne who has a best of 920 km will be competing as will Martin Fryer who, along with Schwerk, both run for the Sri Chinmoy Marathon Team.
Swedish Yudith Hernandez Melgar who ran 234 km in Skovde 24 in 2013 will be venturing into her first 6 day.
Race website: www.emusport.hu
Facebook Group: www.facebook.com/emu6day Updates and photos.